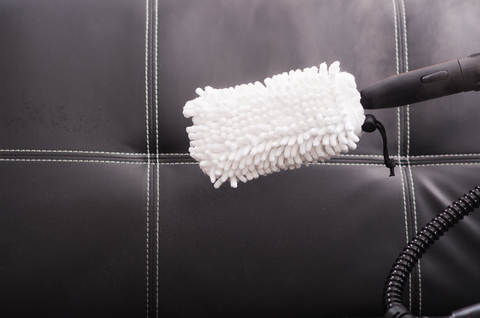 Polyester is one of the commonly used fabrics on sofas, mainly because of its durability and aesthetic appeal. Although it can be used independently, there are also occasions whereby polyester can be combined with other materials or fabrics in different proportions. Sofas designed with polyester are attractive furniture pieces that can be used in residential and commercial establishments. In order to maintain the appeal and durability of the furniture, they should be regularly cleaned using the best methods, equipment and products.
The internet offers a massive wave of information that most people today can use for cleaning polyester sofas. In fact, many furniture manufacturers even attach cleaning instructions on their products. But, all these may not be sufficient in ensuring effective sofa cleaning. In fact, many people have often complained to us that even after following the given instructions and using suggested cleaning products, they have still not been able to properly clean their polyester sofas.
At Sofa Cleaning Singapore, we specialize in professional sofa cleaning services and can effectively groom your polyester sofa to the best standards. We have professional cleaners who understand the right techniques and products to use on polyester sofas. Instead of trying so hard to find solutions, simply talk to us for highly effective, safe, reliable and affordable polyester sofa cleaning services in Singapore.
How we handle Polyester Sofa Cleaning
Just like other fabrics, polyester has its unique characteristics that must be properly understood before cleaning. Polyester is resistant to a variety of chemicals, wrinkles, abrasion and even stretching. Besides, it is usually recommended that the fabric should be cleaned by machine wash and a softener. It also needs low temperature drying to preserve the fabric. As an individual, it can a bit tricky to do the cleaning on your own since all these have to be taken into account. Failure to consider these guidelines may lead to damage on your fabric, which can be quite disappointing.
Having handled polyester sofa cleaning for a while, our cleaners are best placed to deliver a perfect job on your furniture. In fact, we are always very cautious to make sure that no damage is caused to the fabric or any other part of the furniture. As soon as you contact us for sofa cleaning services, we will visit you for a thorough inspection of the furniture. This usually takes a few minutes after which we will prepare an estimate for the project.
We understand that polyester sofas can be designed into different colors and patterns, which requires more considerations during cleaning. Based on the design of the fabric, we will choose the most effective technique to apply from dry cleaning, vacuuming to steam cleaning. However, we can also offer custom-cleaning procedures based on your specific demands.
The design of your fabric also determines the cleaning products to be used and that is why it is very important that we begin with an inspection. Polyester reacts differently to various cleaning products, which if not chosen wisely may negatively impact the appeal and durability of the fabric. Through our experience, we have been able to understand all the characteristics of polyester and can always find the right cleaning product for your sofa.
Sofas attract not only dust but can also get stained or accumulate pathogens like bacteria if they are not cleaned regularly. Based on the condition of your sofa and characteristics of the fabrics used, our cleaners will choose the most effective and safe products from shampoo, solvents, chemicals and sprays that use. All our cleaning products are eco-friendly and safe in preserving polyester fabrics.
We always handle all our cleaning projects individually from start to finish so you are never inconvenienced in any way. One of the reasons most people usually ignore regular sofa cleaning is simply because they are forced to wait for long before the furniture dries up. But, that is no longer an excuse when you hire our services. We have the best drying equipment to make sure that you can always continue using your sofas immediately after cleaning.
Talk to Us Now!
Cleaning polyester sofas can be time consuming and challenging to many people because of the numerous precautions that must be taken. At Sofa Cleaning Singapore, we have professional, reliable and affordable solutions that you can always rely on. We can deliver spontaneous as well as schedule regular polyester sofa cleaning services for your home or business premises.