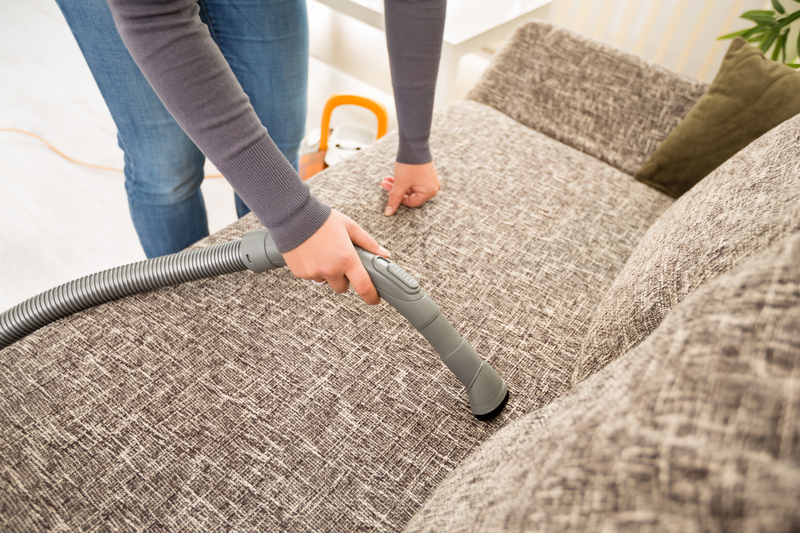 Fabric and cloth sofas are common furniture that we keep at home and even in business premises. They can provide a perfect seating space and also enhance the décor of the room. However, there is one thing to sofas that are designed with cloth, they can easily attract dust and dirt. As a result of this, it is advisable to regularly hire professional fabric and sofa cleaning services. At Sofa Cleaning Singapore, we can offer you the best services to keep your sofas looking good and fresh.
Although most people view sofa cleaning as a simple DIY task, there are quite a number of procedures and products that must be applied for effective solutions. This is why it is very important that you hire professionals to do the job. We have a team of cleaning experts with many years' experience who truly understand the best techniques and products for all kinds of fabric and cloth sofas.
How we do Fabric and Sofa Cleaning
There are various kinds of fabrics and cloth that can be used in designing sofas. Some of the most common materials for making sofas include, velvet, cotton, polyester, corduroy, warp knitted fabrics among others. These fabrics require different cleaning treatments, which you must be knowledgeable about in case you are planning to do the cleaning on your own. Some sofas come with cleaning instructions. But, why undergo all the stress when we can easily do the job with a guarantee of the best results.
We are always very keen and selective in the techniques and products used for cleaning fabric and cloth sofas to ensure that your furniture is accorded the most effective and safe treatment. Through our experience in sofa cleaning, we have been able to determine the best measures for cleaning various kinds of fabrics. Our professionals can take you through the whole cleaning procedure on request.
Before we start any cleaning procedure, we will first conduct a proper inspection of your sofas to determine the fabrics used and their condition. It is through this process that we will able to choose the most ideal cleaning method and products to use for your furniture. Sometimes, the sofas may not be dirty but only need stain removal. On the other hand, those who keep pets may also experience bacteria and pathogens on their sofas. Despite the condition of your sofa, we have the ultimate solutions to ensure that they are spotless and smelling fresh.
We clean fabric and cloth sofas through dry cleaning, steam cleaning and vacuuming, which are applied depending on your needs and material used. However, we can also go out of our way to deliver custom sofa cleaning services to meet your specific demands. For sofas with removable covers, our cleaners will wash the fabrics and dry them right on the spot so they can be used as soon as the other parts of the sofas are cleaned.
There are also different kinds of sprays, shampoo, solvents and chemicals that we use in cleaning fabric and cloth sofas. All the sofa cleaning products that we use are eco-friendly and safe on a wide range of materials. Depending on the fabric of your sofa, we will choose the best cleaning product that can preserve its color, texture and appearance while also giving it a twist of freshness.
But, our services do not just end there, our professionals will also advise you on how to maintain the cleanliness of your sofa for a longer period of time. We can also schedule regular sofa cleaning routines for your furniture at home or in the office as required.
Why you should choose Sofa Cleaning Singapore
Sofa Cleaning Singapore is a fully licensed company that you can always rely on for professional, convenient and affordable fabric and cloth sofa cleaning services. Our cleaning services are well designed for both residential and commercial establishments. In fact, our cleaners can always visit and do the cleaning at your own convenience.
The following are more reasons to choose our sofa cleaning services;
The best cleaning solutions for all kinds of fabrics or materials
No drying time needed
Pocket friendly rates for every budget
Our commitment is not simply to deliver fabric and cloth sofa cleaning services but the ultimate solutions that will keep your furniture clean and also lengthen their lifespan. Talk to us today for a pre-cleaning inspection.